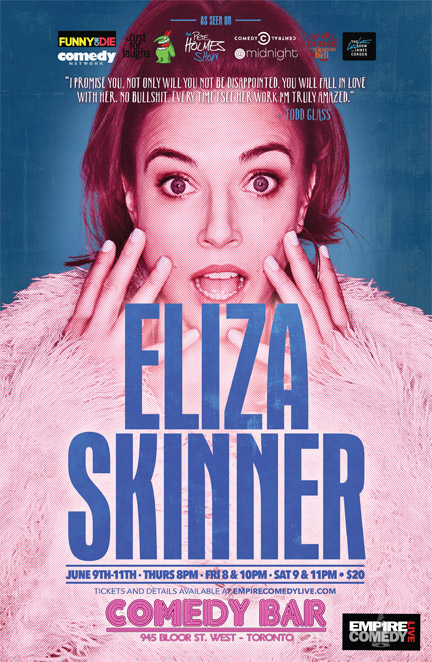 Great news! Eliza Skinner is going to make her Toronto debut this summer at Comedy Bar! Bio & Video below
"If my opinion means anything to you, seriously… Take the time to check out Eliza Skinner. I promise you, not only will you not be disappointed, you will fall in love with her. No bullshit, every time I see her work I'm truly amazed. I hope this motivates you to go check her comedy out." – Todd Glass
"Eliza Skinner is one of my favorite comedians and people. She is an absolutely charming performer who can do it all: joke, sing, write, act, improvise, rap, goof with the best of 'em. You will be truly delighted and magically surprised by her inner comedic world, as I am constantly! Oh, also, because we live in that sort of society, she is exceedingly beautiful and was, in fact, crafted by unicorns." – Aparna Nancherla
Showtimes
Thursday June 9 – 8pm
Hosted by Matt O'Brien w/ Jess Beaulieu & Theresa Ramirez
Click Here for Tickets
Friday June 10 – 10pm
Hosted by Nour Hadidi w/ Courtney Gilmour
Click Here for 10pm Tickets
Saturday June 11 – 9pm & 11pm
Click Here for 9pm Tickets
9pm Hosted by Amanda Brooke Perrin, w/ Rhiannon Archer
Click Here for 11pm Tickets
11pm Hosted by Aisha Brown w/ Heather MacDonald & Tracy Hamilton
Tickets are $20
Eliza is currently a writer on The Late Late Show with James Corden, and is a writer performer on TruTV's Adam Ruins Everything.
She's made multiple appearances on @Midnight, and performed stand up on The Pete Holmes Show. She performed at the Just For Laughs festival as a New Face in 2014, in addition to her performances at The New York Comedy Fest, and the Edinburgh Fringe
She's been a correspondent and writer for Totally Biased with W. Kamau Bell, and made appearances on Conan, Chelsea Lately, and multiple MTV programs
Conan's team took down her Pete Holmes stand up clip, so here's Eliza lighting up some idiot when he acts like a sexist tool

Bio:
ELIZA SKINNER is an LA based comedian who TimeOutNY described as "definitely one to watch." She is currently a staff writer at FUNNY OR DIE She recently worked as both a staff writer and correspondent on FX's TOTALLY BIASED WITH W. KAMAU BELL, and also appeared on the new version VH1's Best Week Ever.
She has performed all over the world, including SXSW, the NY Comedy Festival and the Edinburgh Fringe. She has appeared on TBS' Are we There Yet?, Conan, and MTV's Damage Control. Eliza is a writer for Fashion Police on E!, and her writing has been featured in Glamour, Cosmopolitan, and Cracked.
Many of her original videos have become viral hits online, and RuPaul even called her "She-larious!" Eliza is also a teacher and regular performer at the Upright Citizens Brigade Theater, and she has created a popular blog called NASTY CUTE.