FeaturedAnna Drezen - February 20 to 22 at Comedy Bar
Event Details

Empire Comedy Live is excited to welcome Anna Drezen  to Toronto for a 5 show run at Comedy Bar!

Thursday February 20th to Saturday February 22nd
Live at Comedy Bar – 945 Bloor St W (at Ossington Station)
$25 at the door or online at ComedyBar.CA

Thursday February 20 – 8pm
Hosted by Yaw Attuah with Syed Raza
Tickets at: https://comedybar.ca/show.php?Event_ID=13606

Friday February 21 – 8pm
Hosted by Cathryn Naiker, with Evany Rosen
Tickets at: https://comedybar.ca/show.php?Event_ID=14022

Friday February 21 – 9:30pm
Hosted by Chris Sandiford, with Courtney Gilmour
Tickets at: https://comedybar.ca/show.php?Event_ID=14023

Saturday February 22 – 9pm
Hosted by Lexa Graham, with Chris Lee & Melanie Dahling
Tickets at: https://comedybar.ca/show.php?Event_ID=14020

Saturday February 22 – 11pm
Hosted by Leonard Chan, with Grace McClure, and Megan Honey
Tickets at: https://comedybar.ca/show.php?Event_ID=14021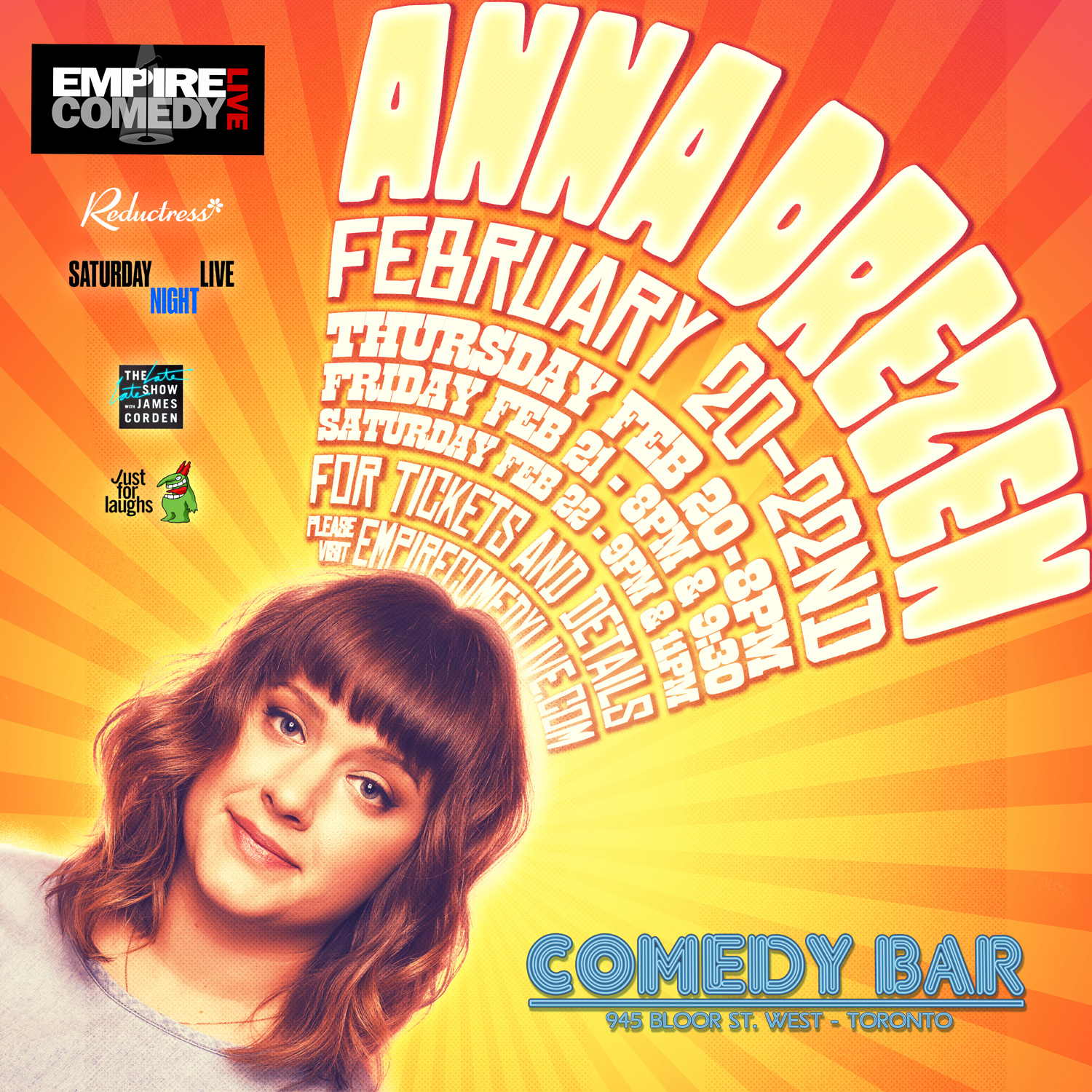 ANNA DREZEN – Anna is a writer for NBC's SATURDAY NIGHT LIVE and the co-author of the books HOW TO WIN AT FEMINISM (HarperCollins, 2016) and HOW MAY WE HATE YOU (Potter Style, 2016).
The latter, which was based on Anna's experiences working as a concierge at a hotel in Times Square, was optioned by ABC this year and turned into a pilot, starring Kat Dennings and directed by Will Gluck. She recently contributed to Kate McKinnon's upcoming Audible/Broadway Video series, HEADS WILL ROLL, collaborated with McKinnon on her 2017 Oscar nominee luncheon video, and consulted on Jena
Friedman's Adult Swim special, SOFT FOCUS.
Other writing credits include; MTV, Cracked, Thought Catalog, Nylon and The Daily Dot. She has been featured in videos on CollegeHumor, Above Average, Buzzfeed, and Funny or Die and was chosen to participate in Comedy Central's 2017 UP NEXT showcase.
Anna was the editor-at-large of REDUCTRESS and wrote for Comedy Central's "Reductress" pilot starring Abby Elliott. She was honored at this year's Just For Laugh's festival as a New Face – Stand Up.
About Comedy Bar: Seating at Comedy Bar is general admission, so please arrive on time to ensure the best possible seating
Comedy Bar is located directly across the street from Ossington Station's Delaware Street entrance.
There is also ample street side parking
The venue is not fully accessible as there is a staircase to get downstairs into the venue. Washrooms are located on the main floor of the venue
Thursday February 20 – 8pm
Tickets at: https://comedybar.ca/show.php?Event_ID=13606
Friday February 21 – 8pm
Tickets at: https://comedybar.ca/show.php?Event_ID=14022
Friday February 21 – 9:30pm
Tickets at: https://comedybar.ca/show.php?Event_ID=14023
Saturday February 22 – 9pm
Tickets at: https://comedybar.ca/show.php?Event_ID=14020
Saturday February 22 – 11pm
Tickets at: https://comedybar.ca/show.php?Event_ID=14021
Time

Year Around Event (2020)