We're thrilled to welcome Robert Webb to Comedy Bar for the very first time as part of the book launch for his brand new release "How Not To Be A Boy" from PGC Books
Robert Webb – A Book Event & Q&A for "How Not To Be A Boy"
Thursday June 7th at 7pm & 9pm
Live at Comedy Bar – 945 Bloor St W (at Ossington Station)
Venue opens at 6pm, with theatre doors opening 30 mins before showtime
$25 admission
Click Here for 7pm tickets – SOLD OUT
Click Here to 9pm tickets
Robert will be signing copies of the book after the event
* Note this will not be a stand up show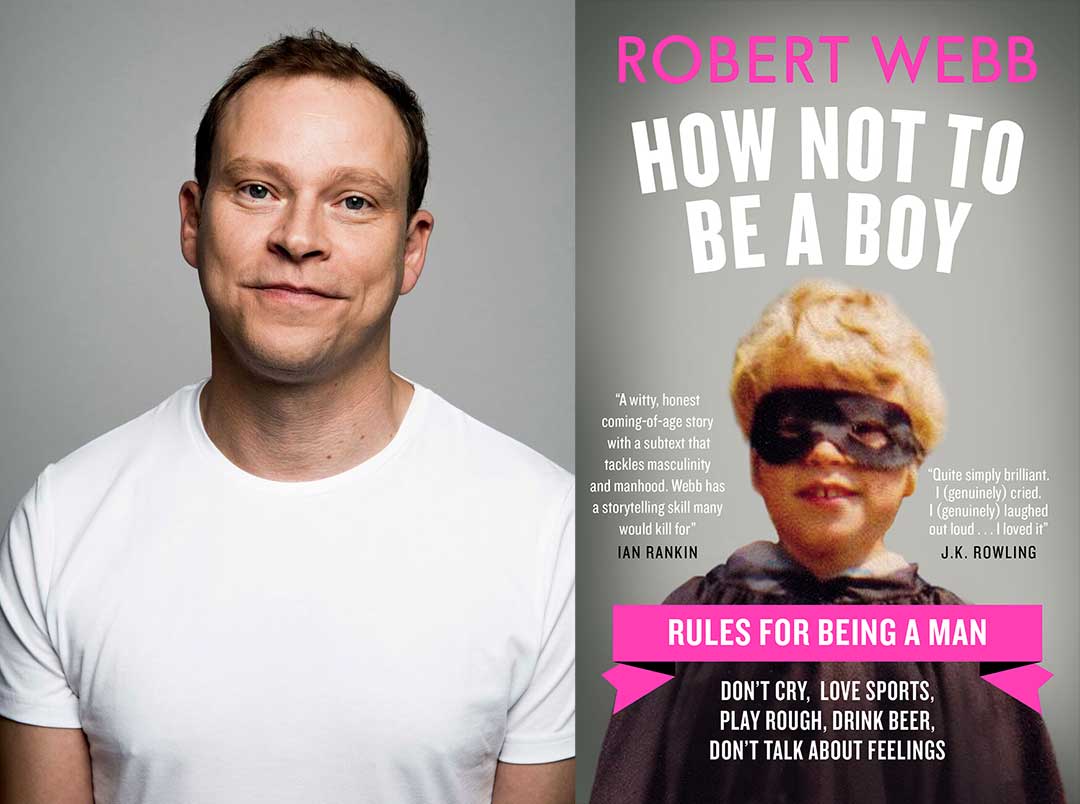 Join the discussion on Twitter: @arobertwebb / #hownottobeaboy
About the book:
"Quite simply brilliant. I (genuinely) cried. I (genuinely) laughed out loud. It's profound, touching, personal yet universal . . . I loved it." —JK Rowling
How Not To Be a Boy by Robert Webb
Rules for being a man: Don't Cry, Love Sports, Play Rough, Drink Beer, Don't Talk About Feelings.
But Robert Webb has been wondering for some time now: are these rules actually of any use? To anyone?
Looking back over his life, from schoolboy crushes (on girls and on boys) to discovering the power of making people laugh (in the Cambridge Footlights with David Mitchell), and from losing his beloved mother to becoming a husband and father, Robert Webb considers the absurd expectations boys and men have thrust upon them at every stage of life.
Hilarious and heart-breaking, How Not To Be a Boy explores the relationships that made Robert who he is as a man, the lessons we learn as sons and daughters, and the understanding that sometimes you aren't the Luke Skywalker of your life—you're actually Darth Vader.
"A witty, honest coming-of-age story with a subtext that tackles masculinity and manhood" –Ian Rankin
"With enormous poignancy and insight . . . Webb's early portrait of himself as a hapless underdog navigating the boulder-strewn path of masculinity is vividly drawn and very funny." –The Guardian
"A much-needed contribution to the vital conversation about the damage gender can do." –Juno Dawson
About Robert Webb
Robert Webb has been a male for his whole life.
As such, he has been a boy in a world of fighting, pointless posturing, and the insistence that he stop crying. As an adult man, he has enjoyed better luck, both in his work as the Webb half of Mitchell & Webb in the Sony award-winning That Mitchell & Webb Sound and the BAFTA award-winning That Mitchell & Webb Look, and as permanent man-boy Jeremy in the acclaimed Peep Show.
Webb currently stars in Back, streaming on Sundance Now, which aired in November 2017. The show has been renewed by Channel 4, who originated it. Robert has been a columnist for the Daily Telegraph and the New Statesman, and now lives in London with his wife and daughters, where he continues trying to be funny and to fumble beyond general expectations of manhood.